IT
·
Katowice
·
Hybrid Remote
Senior iOS Developer
Szukamy Senior iOS Developer dla firmy która tworzy aplikacje mobilne dla sektora bettingowego.
Dla naszego klienta szukamy Senior iOS developer.
Firma zajmuje się projektowaniem oraz tworzeniem aplikacji mobilnych dla branży bettingowej.
Co czeka na Ciebie w tym miejscu pracy?
Będziesz uczestniczył w rozwoju produktu jakim jest aplikacja do zakładów sportowych.
Tech Stack, z którym będziesz głównie pracować:
Swift, Objective-C, Swift UI, Websockets, Socket.io, Git, Gitlab, Gitlab CI, Fastlane, Firebase, ELK Stack, Grafana, Prometheus.
Co będziesz rozwijać?
Największe wyzwanie jakie stoi przed zespołem mobilnym to Kotlin Multiplatform, gdzie klient stara się przenieść całą logikę biznesową. Dodatkowo klient planuje mieć jak największe pokrycie testowe i wprowadzić testy E2E.
Na tym stanowisku będziesz rozwijać nowe funkcje w Swift , ale ObjC przyda się również, gdy będziesz musiał zajrzeć do starszych części aplikacji.
Będziesz częścią zespołu mobilnego, w którym pracuje 20 osób (9 Android developerów, 7 iOS developerów, 4 QA, Scrum Master, Product Owner, UX Designer).
Zespół działa zgodnie z metodologią Scrum(daily, refinement, retrospective) i 14-dniowe sprinty.
Zespół organizuje regularne Kapituły Android/iOS, gdzie wzajemnie członkowie zespołu się edukują edukujemy i dzielą technicznymi nowinkami.
Co jest ważne w tej rekrutacji:
szukamy kandydata który posiada 5 lat doświadczenia w tworzeniu aplikacji na iOS w języku Swift/Objective-C również mile widziane,
doświadczenie z Xcode,
umiejętność proponowania funcjonalnych rozwiązań technicznych,
znajomość standardów kodowania i wzorców projektowych,
samodzielność i dobra organizacja pracy,
komunikatywny język angielski,
Benefity:
Budżet na rozwój
Karta Multisport.
Kieszonkowe na wakacji
Kursy języka angielskiego dwa razy w tygodniu w biurze.
Parking w Katowicach
Sprzęt i akcesoria.
Telefon firmowy
Ubezpieczenie emerytalne.
Ubezpieczenie na życie.
Dofinansowanie na posiłki.
PlayStation i piłkarzyki w strefie gier
Dla pracowników dostępne są słone i słodkie przekąski, owoce, kawę i herbatę. Nie może zabraknąć pizzy, lodów, mięs z grilla, wegańskich kiełbasek i beczek piwa.Organizowanych jest wiele imprez, takich jak Beer & Terrace, grille firmowe czy imprezy integracyjne. Mówiąc wprost - z zespołem naszego klienta nie będziesz się nudzić!
Department

IT

Locations

Katowice

Remote status

Hybrid Remote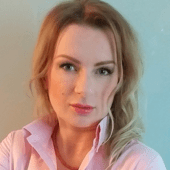 Contact
Małgorzata
Sourcing and Recruitment Consultant
About Simply Talented
We strongly believe that we can improve the quality of your recruitment every day.
We aim to create an excellent candidate experience, understand their needs better, and provide your company with the best matching talent.
We work with startups and scaleups companies and help them to grow by building recruitment strategies, and procedures by optimizing and supporting their recruitment actions.

We work with large organizations by finding suitable candidates for their open roles working along with their in-house recruiters/hr team.
IT
·
Katowice
·
Hybrid Remote
Senior iOS Developer
Szukamy Senior iOS Developer dla firmy która tworzy aplikacje mobilne dla sektora bettingowego.
Loading application form