IT
·
Warsaw, Wrocław
·
Temporarily Remote
Frontend Developer (React)
Szukamy Frontend Developera, który dołączy do zespołu klienta, którzy tworzy innowacyjny system bankowości internetowej.
Chcesz pracować w zespole który zajmuje się rozwojem bankowości mobilnej i internetowej naszego klienta. Aplikacja nad którą będziesz pracował znajduje się w czołówce najlepiej ocenianych produktów online bankowych w rankingach niezależnych organizacji (m.in. Newsweek).
Dodatkowo będziesz częścią scrumowego teamu odpowiedzialnego za budowę innowacyjnego systemu bankowości internetowej, w którym poznasz architekturę skalowalnego, dostępnego publiczne systemu transakcyjnego. 

W tym projekcie będziesz pracować z następującymi technologiami: React(Hooks), Typescript, będziesz wykonywać code reviews oraz pisać testy jednostkowe za pomocą bibliotek z rodziny @testing-library.
Jeżeli brzmi to interesująco aplikuj!
Poniżej znajdziesz więcej informacji o tym stanowisku:
Wymagania:
Bardzo dobra znajomość React i technologii powiązanych: Redux, React Router,
Co 4 lata komercyjnego doświadczenia w roli Frontend Developera,
Bardzo dobra znajomość HTML5, CSS3 oraz JavaScript (ES6) poparta zrealizowanymi projektami,
Podstawowa znajomość GIT,
Znajomość języka angielskiego na poziomie umożliwiającym pracę w środowisku międzynarodowym.
Dodatkowym atutem będzie:
Znajomość Typescript,
Dobra znajomość zagadnień związanych z protokołem HTTP oraz interfejsami REST,
Dociekliwość i analityczna postawa wobec wymagań biznesowych.
Oferta:
Interesującą i odpowiedzialną pracę w międzynarodowej instytucji finansowej,
Praca remote (raz w miesiącu dojazd do biura) w Warszawie lub Wrocławiu,
Stałą umowę o pracę z podwyższonymi kosztami uzyskania przychodu (50%) lub kontrakt B2B,
Interesujące projekty z dziedziny bankowości internetowej,
Aktywne uczestnictwo w procesie analizy i tworzenia nowych rozwiązań,
Praca z najnowszym stackiem technologicznym (React 17, Redux, Material UI, TypeScript, NX),
Pracę ze złożonymi aplikacjami typu front-end.
Department

IT

Locations

Warsaw, Wrocław

Remote status

Temporarily Remote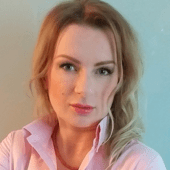 Contact
Małgorzata
Sourcing and Recruitment Consultant
About Simply Talented
We strongly believe that we can improve the quality of your recruitment every day.
We aim to create an excellent candidate experience, understand their needs better, and provide your company with the best matching talent.
We work with startups and scaleups companies and help them to grow by building recruitment strategies, and procedures by optimizing and supporting their recruitment actions.

We work with large organizations by finding suitable candidates for their open roles working along with their in-house recruiters/hr team.
IT
·
Warsaw, Wrocław
·
Temporarily Remote
Frontend Developer (React)
Szukamy Frontend Developera, który dołączy do zespołu klienta, którzy tworzy innowacyjny system bankowości internetowej.
Loading application form